A few months ago, we announced the creation of a "forum" to discuss the future of Rails and what the community is interested in. Since then, many important suggestions/topics were addressed, many features were completed or started. My goal in this post is to give you a quick overview on the status of the uservoice forum.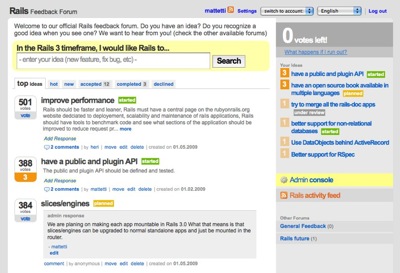 ##Suggestions mentioned and completed:
Nested Model forms This is something that was actually started before we put the forum together and this feature is now available since Rails 2.3.x

Rails magazine Olimpiu Metiu already released two issues of his Rails Magazine. The PDF versions are available for free but you can also purchase the print version.

Better Wiki A lot of people have put efforts in building the new wiki and I'm sure a lot more content will be provided. We have also made the wiki available for translation.
##Accepted/started suggestions:
Don't forget that you can still make your suggestions and/or pick one that is already listed and start working on it!